ASRock Phantom Gaming Alliance with Cooler Master and Teamgroup at CES 2019 Announced
The leading global motherboard and graphics card manufacturer, ASRock, today announces the partnership with Cooler Master and TEAMGROUP, to expand its global presence in gaming PC product categories. Three leading PC manufacturers will jointly introduce the Phantom Gaming edition chassis, CPU cooler, memory, and SSD to gamers for a unique gaming PC build at CES 2019.
This partnership brings the leading-edge PC product manufacturers together as Phantom Gaming Alliance, offering chassis, CPU cooler, memory, and SSD with the remarkable design of Phantom Gaming elements. Moreover, it encourages the gamers to pursue their passion on unique gaming PC build, and the performance demanding for outstanding gaming experience.
ASRock will continue expanding the partnership of the Phantom Gaming Alliance, and require the Phantom Gaming edition products can meet the validation beyond industry standards, as well as be compatible with ASRock Polychrome RGB Sync feature, to ensure the outstanding gaming experience can be delivered.
The first wave of Phantom Gaming edition product includes: Phantom Gaming Edition Chassis, Cooler Master MasterCase H500P Mesh Phantom Gaming Edition, Cooler Master MasterBox K500 Phantom Gaming Edition Phantom Gaming Edition CPU Cooler, Cooler Master MasterLiquid ML240R RGB Phantom Gaming Edition, Cooler Master Hyper 212 RGB Phantom Gaming Edition, Phantom Gaming Edition Memory Module, T-FORCE XCALIBUR Phantom Gaming RGB Memory Module, Phantom Gaming Edition SSD, T-FORCE DELTA Phantom Gaming RGB SSD 5V.
The Phantom Gaming edition chassis, CPU cooler, memory, and SSD will be showcased with Intel Z390 Phantom Gaming series motherboards, as well as Phantom Gaming Radeon RX Vega/RX 500 series graphics cards at ASRock suite during CES 2019. 1/8-1/10: 9AM-6PM; 1/11: 9AM-11AM; Location Aria Resort and Casino 3730 S Las Vegas Blvd, Las Vegas, NV 89158.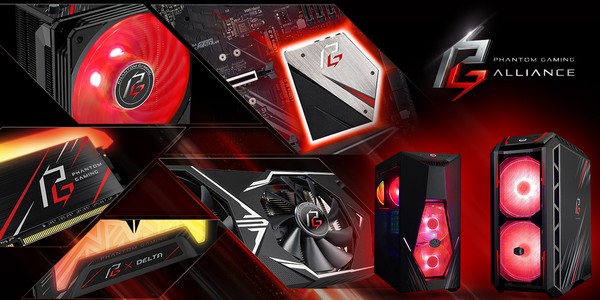 Quelle: asrock.com (E)